ABOUT THE EXHIBITION
Edward Burtynsky: Earth Observed
Edward Burtynsky's astonishing photographs depict, in large scale, our human impact on the planet—an endeavor that has led him across North America and around the world, and that has resulted in some of the most iconic, beautiful, and unsettling images of our times. In lustrous surfaces and meticulous detail, Burtynsky reveals to us places that are outside of our normal experience, but that we partake of on a daily basis through material consumption. For over 40 years, his images of the global industrial landscape have captured surreal, abstract, and even painterly aspects of natural and human systems on earth—of quarries, mines, logging, dams, oil reserves, water, rail cuts, and global manufacturing.

Regarded as one of the world's most accomplished contemporary photographers today, Burtynsky received his first camera at the age of 11 and sought out to photograph nature. As a student, he looked to 19th- and 20th-century photographers, including Carlton Watkins (1829-1916), Edward Weston (1886-1958), August Sander (1876-1964), and Ansel Adams (1902-1984), who explored and documented the North American landscape in all its sublime grandeur. Like his predecessors, Burtynsky has remarked that, early on, he "began by photographing the "pristine" landscape, but I felt I was born a hundred years too late to be searching for the sublime in nature…. I wanted to…be true to my generation, to the world I lived in. I decided that what was relevant for our times were pictures that showed how we have changed the landscape in significant ways in the pursuit of progress." Throughout Burtynsky's career, he has used his camera to bear witness to the impact of human industry, inviting viewers to look, to discover, and to think. "For me," he remarks, "these images function as reflecting pools of our times."
The artist's largest retrospective in the Northeast, Edward Burtynsky: Earth Observed examines the artist's career-long documentation of human impact on nature and comprises examples from nearly every series of Burtynsky's output from the 1980s to today, including Mines, Quarries, Shipbreaking, China, Oil, Water, and Anthropocene. The exhibition will explore the legacy of landscape art in America, as well as the role of photography in environmental advocacy.
Works in Edward Burtynsky: Earth Observed are drawn from the New Britain Museum of American Art, Baltimore Museum of Art, Hood Museum of Art, Middlebury College Museum of Art, Howard Greenberg Gallery, and private collections.
About the Artist
Edward Burtynsky was born in 1955 of Ukrainian heritage in Ontario, Canada, and received his BAA in Photography/ Media Studies from Toronto Metropolitan University (formerly Ryerson University) in 1982. Burtynsky has exhibited internationally and his photographs are included in the collections of over 60 major museums around the world. He is the recipient of numerous accolades; most recently he was awarded a Royal Photographic Society Honorary Fellowship (2020) and was honored with the Outstanding Contribution to Photography Award (2022) by the World Photography Organization. He currently holds eight honorary doctorate degrees. Beyond his own photography, Burtynsky has also collaborated with director Jennifer Baichwal and Nicholas de Pencier on three documentary films that confront some of the most glaring environmental issues facing humanity, Manufactured Landscapes (2006), Watermark (2013), ANTHROPOCENE: The Human Epoch (2018), which will be screened during the course of the exhibition.
Click here to download the digital exhibition booklet.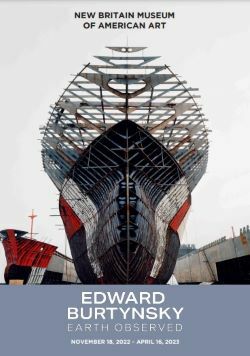 Related Programming
Members Opening Reception
Thursday, November 17, 2022
Collector's Talk by Tom O'Neil
Saturday, November 19, 3 p.m.
Adult Studio Class: Photography | The Environmental Portrait with Peter Glass
Thursdays in November, 5-7 p.m.
Walk-In Tours | Special Exhibition - Edward Burtynsky
Sundays at 1 p.m., starting on December 4
Conversation with Edward Burtynsky
Sunday, December 4, 1-2 p.m.
Film Screening | Manufactured Landscapes (2006)
Sunday, January 29, 2 p.m.
Film Screening | Watermark (2013)
Sunday, February 26, 2 p.m.
Lecture | Back to the Future with Ellen Carey
Sunday, March 5, 1 p.m.
Film Screening | Anthropocene: The Human Epoch (2018)
Sunday, March 26, 2 p.m.

Featured Press
Art review: Burtynsky offers breathtaking, natural beauty. It's also grisly
By Tracey O'Shaughnessy, Republican-American, February 18, 2023
Photographs that don't so much confront scale as embrace it
By Mark Feeney, The Boston Globe, January 11, 2023
New Britain museum hosts collection of important photographs
By Tracey O'Shaughnessy, Republican-American, January 25, 2023
Sponsors:
This exhibition is made possible by the Howard Fromson Endowment for Emerging Artists and by the generous support of The O'Neil Family – Baltimore, MD. In-kind support is provided by Thomas Mach Interiors, Inc.
About the O'Neil Family:
The O'Neils began collecting Burtynsky's work several decades ago and built their holdings strategically. From the outset, the goal was to place in permanent museum collections representative selections from his projects. In February 2014, the Baltimore Museum of Art announced a gift of 24 images that included several major works by Burtynsky. Later that year, the Hood Museum of Art at Dartmouth announced a gift of 39 photographs, including six works by Burtynsky.
Following a gift to the Middlebury College Art Museum, the O'Neils, who have strong Connecticut and New England roots, decided to work with the NBMAA to strengthen its permanent photography collection. Gifts in 2019 and 2021 included a total of six works by Burtynsky. Earth Observed will include works from their gifts to all four institutions as well as their family collection.
Media Sponsor: