NEW/NOW | Interview with Shantell Martin
Among the most innovative young artists working today, Shantell Martin (1980) is known for her exploration into the vast potential of the drawn line. Using an ink marker, she creates improvisational compositions that exist as small personal sketches, large-scale murals, live drawing performances, and collaborations with high-pro fashion brands, shoe-makers, engineers, and pop stars.
As part of the New Britain Museum of American Art's NEW/NOW series featuring emerging and established contemporary artists, the Museum will present Martin's 1st career retrospective in 2020. Celebrating the span of Martin's output, the show will explore the evolution of her artistic style and technique while focusing on three aspects of Martin's output—art, commerce, and technology— and their myriad cross-sections. Ahead of her exhibition, we share a sneak peak of our exclusive interview with Martin as she shares insights about her life, work, and what's ahead. Stay tuned for the forthcoming full interview.
NBMAA: Can you share a bit about your background and how it has come to shape your art?
Shantell: Being raised in an environment that didn't have the luxury or the understanding of putting art at the center, especially for children, my 1st introduction to art was through cartoons, not museums. Looking back at it now, I'm able to appreciate how this taught me that inspiration and creativity come from within.

It has been fascinating to learn about your early days in Japan and New York, and how you evolved as an artist in these places. Can you tell us a bit about your time in Japan as a VJ and how that experience allowed your process to evolve; and later, how upon arriving to New York, you encountered challenges that led you to discover new and different platforms for expression?
There's so much to explore here but in a nutshell Japan really led to me performing live, as a VJ and now that is incorporated into my live drawing performances. Japan as a culture is very much about perfecting a process over time and through many generations. I really appreciated being influenced by that aspect and really focusing on developing a discipline towards my work, understanding that it will take a lifetime to truly perfect my craft. Performing live really taught me about being honest and creating without hesitation or judgement or the fear of judgment. I brought these elements with me when I came to New York, and I'm very grateful that I had this mindset before arriving here. New York is a place that is almost like a pressure cooker. So many people. So many people doing so many interesting things while also trying to just survive. It can be really daunting, and you can feel like you're not doing enough. However, when you bring your mind back to focusing on the process, the results become less important and there's a built in element of creative fulfillment and truthfulness.
You've lived and traveled internationally. What about the States attracted you, and do you feel your experiences in America have influenced your work?
First I had to move to Tokyo, Japan to become interested in the US. Obviously, Japanese culture is very different from American culture, but at the same time there is a lot of Americanism or an influence from American culture there, which is what initially sparked my interest in coming. American culture has influenced me in ways that are both physical and metaphorical. I think BIG in a way that is really American now, in the best of ways. I also really do believe that American culture fosters a pride in one's work which is not spoken of in English culture. I think this is really healthy. Artists should especially be able to talk about their process, their work, and their achievements and failures.
The NBMAA is thrilled to present your first career retrospective. How do you feel about exhibiting such a broad scope of work, in both time period and media represented?
For me, it just makes sense to showcase the work. Many people could say that I'm quite young for this opportunity, and I hope that there are still many, many years ahead of me. But coming back to this point of view of retrospection, I appreciate how important it is to look back and to see the diverse mediums of work and where it has taken me, while seeing the consistent thread of identity and style. I think today the work could be a great example of artists not needing to fit into boxes and finding nontraditional paths as creatives and artists.
Your NBMAA show will include a few new works. What are some of the pieces you are most excited about presenting?
I don't know! I'm really excited about it all.

Your show takes place as part of the 2020/20+ Women @ NBMAA initiative, in which all of our exhibitions throughout 2020 have been dedicated to the exhibition and acquisition of work by women artists, in an effort to bring greater representation of women to our galleries. Do you see your work in dialogue with themes of representation, diversity, and empowerment? If so, how?

Yes. By simply being, myself, a queer, biracial woman from a working class background. In reality I shouldn't be where I am. The act of me doing what I do is a form of activism and you could say a rebellion against the societal limitations placed upon myself and others.
Questions and statements such as WHO ARE YOU and YOU ARE YOU appear in your drawings. How do you see your work as an exploration of your own identity, and as a prompt for viewers to explore their own?
It's about finding our way. It's a big existential question that I ask myself and I hope that my work helps create the space for others to do the same.
Collaboration is often your process. How do expands your work?

It combines the knowledge that you have and the knowledge someone else has and is already right there—it's expanding. But it also gives you the opportunity to meet others in a new space. Sometimes that space can be a really vulnerable place for one or both people. Any time you're doing something new, it invites you to access courage and it's also very humbling.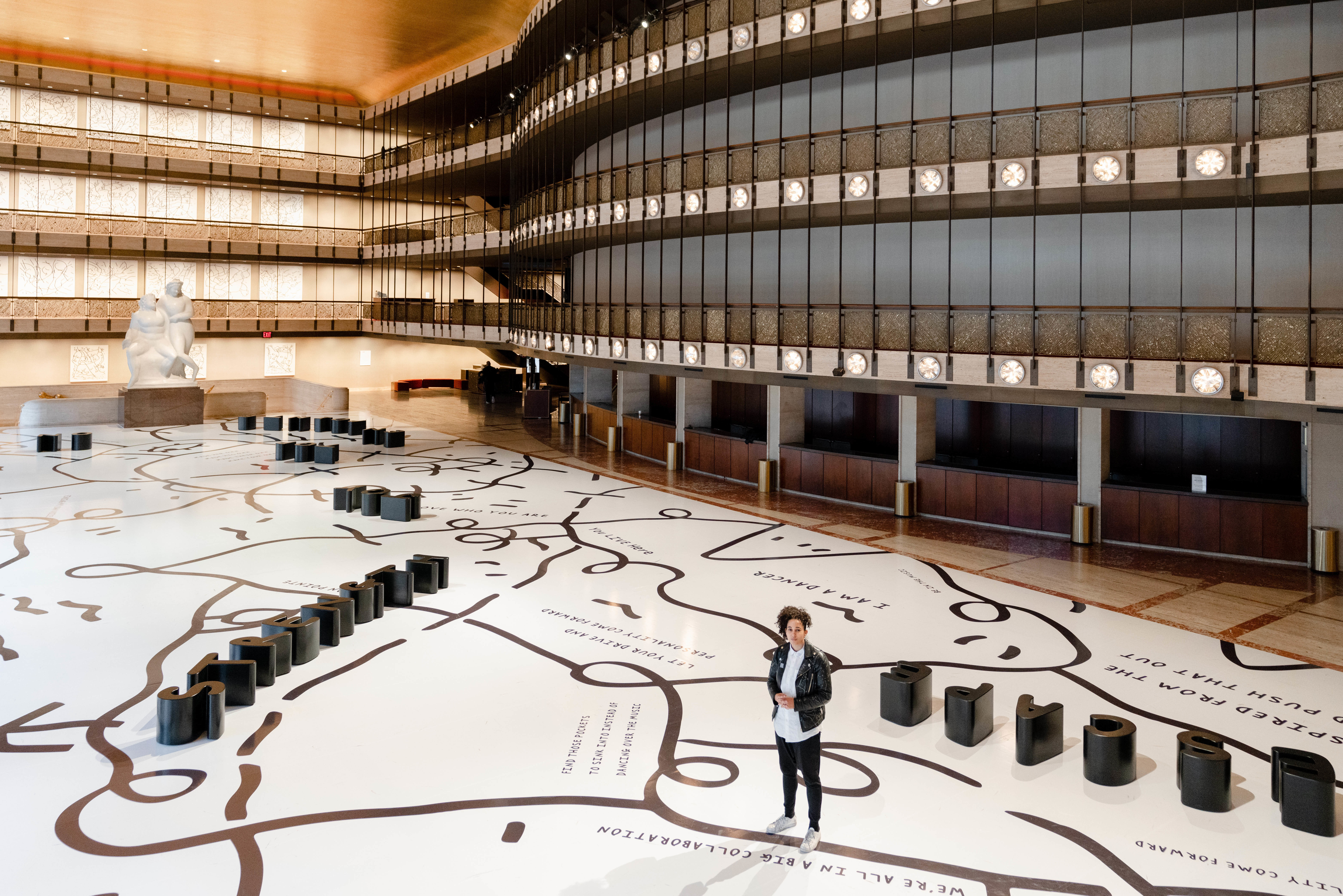 A number of works from the NYC Ballet collaboration will be exhibited at the NBMAA. Can you talk a bit about how that project came about and what it entailed?
It was an extremely collaborative experience and I'm truly honored that the NYCB approached me when they were coordinating their Art Series for 2019. I was given so much support and access to the company and really was able to dive into that world and learn so much about that craft. I knew from the beginning that I wanted the work to be a reflection of the dancers who make up the company and so I spent a bit of time interviewing quite a few of them about their own personal creative process and relationship to the craft of ballet and to the NYCB as an institution with such an incredibly contemporary approach to ballet. I then created the works during dance rehearsals at Lincoln Center so even my lines were influenced by the movement and life of what was happening on stage. To date, it is one of the collaborations that I feel truly reflects the essence of "Collaboration" and why it's a very important part of my own creative path.
One aspect of your show that we are tremendously excited about is the display of three one-of-a-kind furniture pieces—a couch, love seat, and ottoman—that combine two separate collaborations: textiles you created with Momentum Textiles in 2017, and furniture pieces conceived with French company Ligne Roset for your 2020 NBMAA exhibition. Can you share how these collaborations came about, and what inspired you to design these particular textiles and furniture pieces?
A few years ago, Momentum Textiles reached out to me. Initially it began as a few conversations, but what really sparked my interest was that they really felt like a collaborative group who were interested in creating very high-quality textiles that would give my work another dimension, and that's really what excited me. It was a new world to play in and explore and I absolutely fell in love with the process and learning about the craft and the people behind the work. Since then, we've launched an award-winning collection, which is now in the contemporary textile collection of the Cooper Hewitt.
Expanding to furniture was a natural next step. I love furniture and design and how we create spaces, it's like architecture for the body. I've been a huge fan of Ligne Roset and a few years ago I happened to meet some extremely kind, collaborative, and creative people at the brand and things organically went from there. My dream is to create a whole collection with them!
What other collaborations are represented in your NBMAA show?
My work with PUMA, MaxMara, and some of the drawing tools I created during my residency at Autodesk in San Francisco, to name a few.
How do these collaborations relate to, or expand upon, your artistic practice and interests as a whole?
I get to explore different mediums, different industries, at a really high standard and quality. I get to put my message out there in really interesting ways and it's fundamentally connected to my practice, which for me is all about learning and expanding.
Your color palette is often pared down to black and white, but these furniture pieces are vibrant red and black. Can you talk about what informs these choices?
When I collaborate or other people are involved, there actually tends to be a lot of color. For the pieces in the show, I really wanted to create work that was surprising not only in its medium, but on an emotional level. I've been searching for a way to create with that red textile and when I thought about creating the furniture pieces, I really wanted to make something that was surprising, bold, and extremely inviting so that people felt the urge to physically relate with it.
Your work has been described as a vehicle to forge new connections between art, education, design, philosophy, and technology. How does your work and process accomplish this?
I think it accomplishes it first, by not putting my own work in a box. Essentially, I'm working in mediums and industries and that I'm interested in or that I feel I can make an impact in. Naturally, these industries crossover or blur the lines between art, education, design, philosophy, and technology, etc.
Throughout its history, the NBMAA has celebrated illustration, and today we possess the third largest museum illustration country in the nation. Are there illustrators and artists that you find most inspirational?
Absolutely!
Niky Rohreke, Texta Queen, Kristjana S Williams, Shyama Golden, Kennedy Yanko, Pau Stevens, Manija Waldia, Sarah Maple, just to name a few.
Your show at the NBMAA follows the recent publication of your first artist's monograph. What was the process of compiling your book like?
It took over a year and really was a process of tracking down work, especially when you're talking about work that was made 10 years ago and sourcing all the contributors who I've collaborated with for over a decade now. Creatively, we really had to figure out how to best present the work and that was really challenging to be objective like that.
It also took some time to find the right voices to speak of the work. I'm truly so grateful for Katharine Stout and Hans-Ulrich Obrist who both really took the time to understand and explore the work with us.
You're working on some tremendously exciting projects now, including the creation of an artist's residency in Jersey City. Can you tell us a bit about what's coming up on the horizon for you?
Well, it's a process. Especially due to all the delays with the current events but my goal is to create a space for myself and other artists to create in that is fully functional and integrated into the community here. I also really want to document the whole process and create some form of work so that this can be easily replicated elsewhere by other artists.
Your collaborative works are a testament to the opportunities open to artists who are interested in thinking and working "beyond the frame." What advice might you offer to aspiring artists?
Keep creating and sharing. Understand that the process is the art and there is no need to rush.
Additional links:
Website: ​https://shantellmartin.art/
LINES on Amazon: ​https://www.amazon.com/Shantell-Martin-Lines-Katharine-Stout/dp/1912122278
Facebook: ​https://www.facebook.com/shant...
Twitter: ​https://twitter.com/shantell_m...
Instagram: ​https://www.instagram.com/shantell_martin
About the Artist
In addition to prestigious solo shows at some of the most renowned art institutions including the 92Y Gallery in New York City, the Albright Knox gallery and the MoCADA Museum, Shantell Martin (b. 1980, London, England) has carved a path for herself that is as much intellectual as visual artist. During her two-year tenure as a MIT Media Lab Visiting Scholar, Martin collaborated with the social computing group to use drawing as a medium to explore the interaction of social processes with physical spaces. A fashion and design icon in her own right, Martin has collaborated with iconic brands such as Nike, Vitra, Max Mara, and Tiffany & Co., and in 2018, Puma launched a global capsule collection featuring her drawings. Martin has collaborated with legendary artists such as Pulitzer Prize-winning performance artist Kendrick Lamar and acclaimed designer Kelly Wearstler. In late 2018, she was asked to collaborate with the prestigious New York City Ballet, where she created large scale drawings in the performance hall and foyer of Lincoln Center for the company's celebrated Art Series. She continues to teach as an adjunct professor at NYU Tisch ITP (Interactive Telecommunications Program), where she works with her students to push the boundaries of storytelling, visual art and technology. Martin lives and works in New Jersey
---